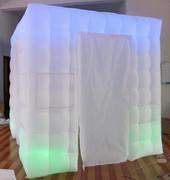 Inflatable Square Photo Booth
Privacy with that photo? Got it. Touch screen enabled? Done. Facebook/Instragram/Tumbler/ Email/Cell Phone sending enabled? BIG YES. Your guest can choose filters as Sephia, Black and White, Comic and many more. You can send each photo to your guests cell phones INSTANTLY while their photo prints in 16 seconds at no additional charge! Wi-fi required for this feature to work.

3 FULL hours of guests taking photos and the printer going nonstop! You get a customized layout, background and text! Will arrive 2 hours before Start time for Set up. Rental is 3 hours but you can add more.

INCLUDED BONUS: We bring the guestbook, markers and than suggest to your guests to sign the guestbook and than decorate around their pictures! Great memory book for you. Much more fun than the usual boring ol' guestbook that's just a bunch of scribble scrabble. This is funny photos with their comments.